COURSES



SOLD OUT.



FOR INFORMATION ON UPCOMING COURSES PLEASE EMAIL US:


hellohoneyfingers@gmail.com




If you are interested in beekeeping, now may be a good time to learn new skills!

These courses are designed to be delivered in a flexible, safe and responsive manner: the online theory module now and, as spring unfolds and beekeeping starts up in November and December (and social distancing measures are relaxed) we can start hands-in-hives, practical classes.

For now, we are offering the theory component, online, via zoom, with a shared Google folder for class materials. We want to keep classes at a human-scale, so are limiting numbers to 20 per class. This gives us a chance to get to know other people in the class and keeps an online experience a little more personal.

Theory Modules

Dates: 6pm-8pm Monday 9 November 2020.
6pm-8pm Monday 16 November 2020.

2 x 2 hour theory sessions via zoom.
Max. class size 20.

Costs:

$175 for theory classes, plus $4.88 booking fee.

Includes:

• The adaptations of the Langstroth hive to 'natural' beekeeping
• Comprehensive bee-friendly instruction + theory.
• A brief history of honey hunting and beekeeping.
• Honeybee superorganism basics.
• What is 'low intervention' / natural beekeeping?
• The beehive explained.
• Foundationless beekeeping tricks.
• Selecting the best site for your hive.
• Swarm management + catching techniques.
• Disease identification + treatments.
• Beekeeping obligations under the Apiary Code of Practice.
• Honey Fingers "Bee-Friendly Urban Beekeeping" booklet, the ISO edition, 3.0 (written and designed by HF. To be posted to participants before the course commences).
• Q+As throughout each session.

If you live outside Melbourne, please book as early as possible to allow enough time for the booklet to be delivered to you.

Cancellation fees:

Within 24 hours of the course commencing: $50.
Greater than 24 hours: $25 (to cover booklet and shipping).

Courses are only transferable by arrangement.
Cancellation fees may still apply.

If you need to contact me, please email:

hellohoneyfingers@gmail.com.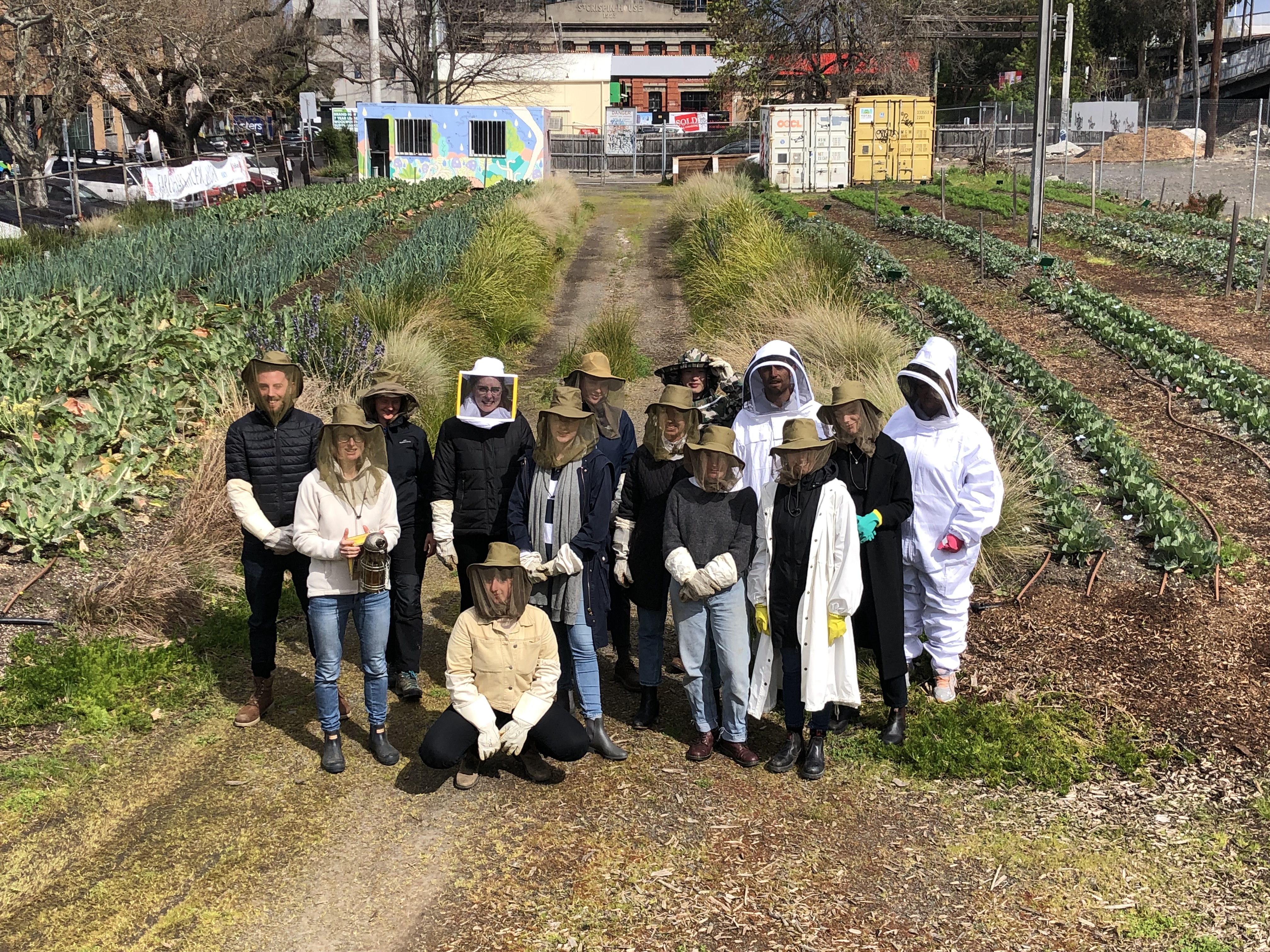 Practical Modules:

In November and December, as restrictions are lifted, we can commence the practical classes.

You don't have to do the theory course to do these modules.

The theory module participants get priority and a discount when enrolling in the practical modules (excludes beehive building workshop).

Prices may vary depending on lockdown status–ideally all events will include some catering/picnic. The Honey Extraction Party will, if possible, include honey tasting and pairing with local cheeses, breads and fruits, including non-dairy and GF options.

To keep things simple here, prices shown exclude catering and are subject to change.

It is not possible to book these practical classes yet– we will announce the practical modules as we get a clearer idea of what will be possible under the isolation measures.

The practical modules we plan to offer include:

• Hive inspections / beehive tours ($95).
• Let's catch a swarm for you– you keep the swarm! ($200).
• How to build your own hive workshop (price tbc, you keep the wooden hive).
• Foundationless frame building and beekeeping tips workshop ($95).
• Honey extraction parties ($95).
• Mentoring ($100 for 2 hours, includes anything you want or need: hive inspections, hive moves, q+a, troubleshooting, advice etc.).